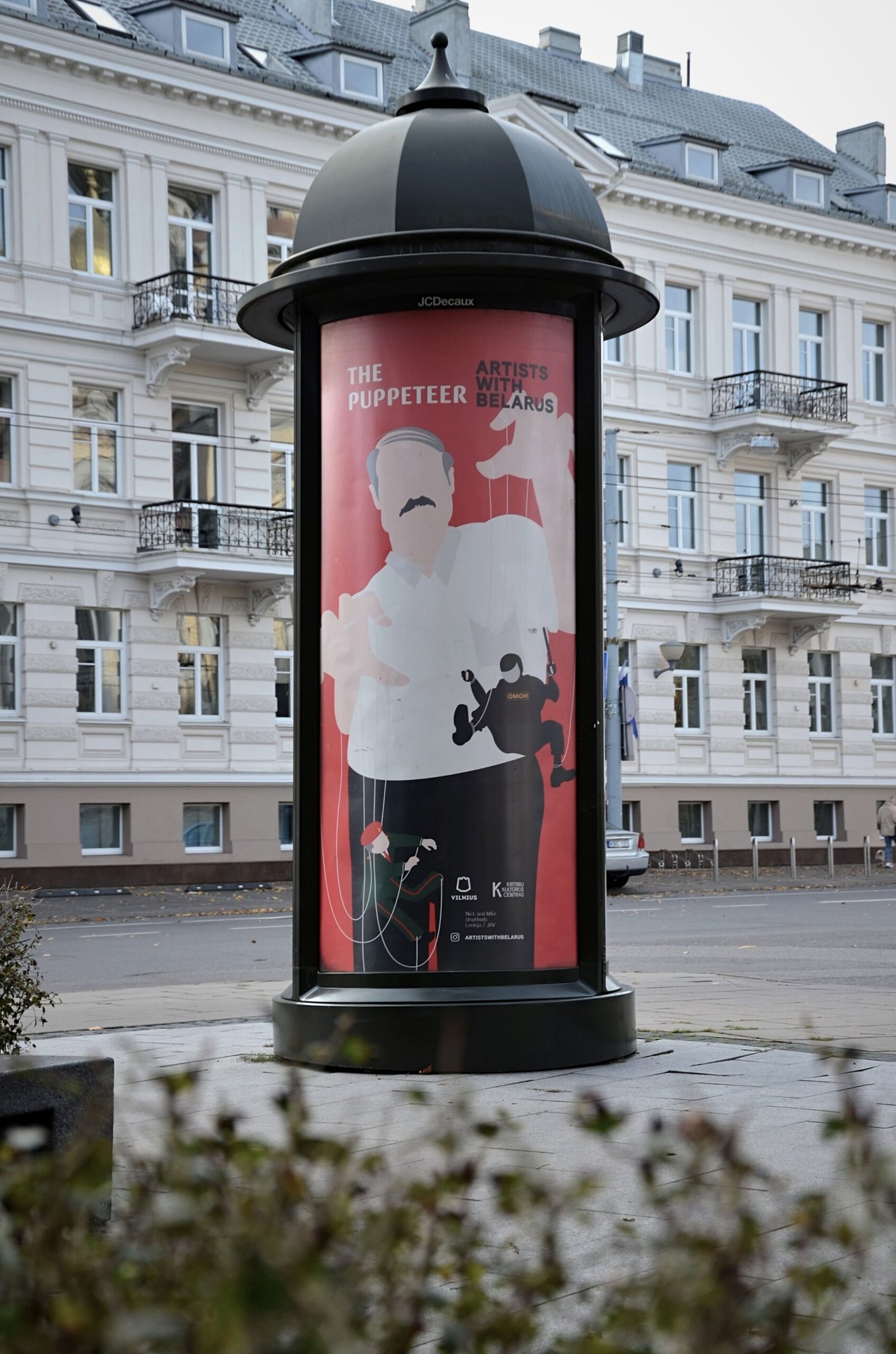 Lithuanian initiative shows support to Belarusians peacefully fighting for democracy
In November the works of many artists showing solidarity with peaceful Belarusian fighters for freedom from brutal dictatorship and fundamental human rights could be seen on outdoor advertising billboards in Vilnius, the capital of Lithuania.
Kirtimai cultural center and artist solidarity movement "Artists with Belarus" brought important visual messages to the streets – the same place, where protesters in Belarus march daily since the rigged presidential election on 9 August.
The social media movement "Artists with Belarus" was initiated by Urtė Karalaitė in August and now unites more than 600 artists from all over the world, who support the Belarusians' pursuit of freedom with their works and send a message to the world about the police brutality and other atrocities of recent events in Belarus.
After about three months since the demonstrations in Belarus started, the Lithuanian media's attention to these events slightly decreased, so Indraja Vaitkūnaitė, the communication coordinator of the Kirtimai cultural center, had the idea to move the works of "Artists with Belarus" participants from digital space to the public. Outdoor advertising billboards were chosen as a place to exhibit works in order to reach people to whom digital media channels are less accessible, also to express Vilnius' solidarity to Belarusian pursuit of democracy, and thus to raise awareness about the use of police brutality against peaceful demonstrations and increase the visibility of human rights violations in Lithuania's neighborhood through art and visual means.
According to the organizers Indraja and Urtė, visual content breaks down language and cultural barriers and is able to communicate to a wider audience, and creative expression can strengthen viewers' emotions, raise questions and discussions. By moving the posters from digital space to outdoor billboards, they not only increased the visibility of the recent events in Belarus, but also created an "outdoors gallery" manifesting protest art, which is especially relevant during the quarantine period when museums and galleries are closed.
"Artists with Belarus" was born in Vilnius and is just one example of how Vilnius expresses support for Belarusians fighting for their freedom in various forms – concerts, protests and flowers at the Belarusian embassy, ​​public speeches by the mayor Remigijus Šimašius, demonstration of Belarusian freedom symbols in public places are just few other examples. In another act of solidarity with Belarusian protesters, Lithuanians formed a human chain between Vilnius and the Belarusian border on 23 August.
Photograph by Beatričė Bankauskaitė
The organizers of the campaign say that they know that the people of Belarus notice the support of Lithuanians and appreciate it very much therefore they wanted this initiative to ensure that the wave of support does not subside.
Social advertising campaign in the streets of Vilnius was initiated by Kirtimai cultural center, using the works created by artists participating in "Artists with Belarus" initiative, with the support of Vilnius city municipality.